The deadline for this year's Juried Art Show is just around the corner!
Selected pieces will be displayed in the Minto Arts Gallery from May 5 to June 3, 2016. Stay tuned for details of the opening night reception!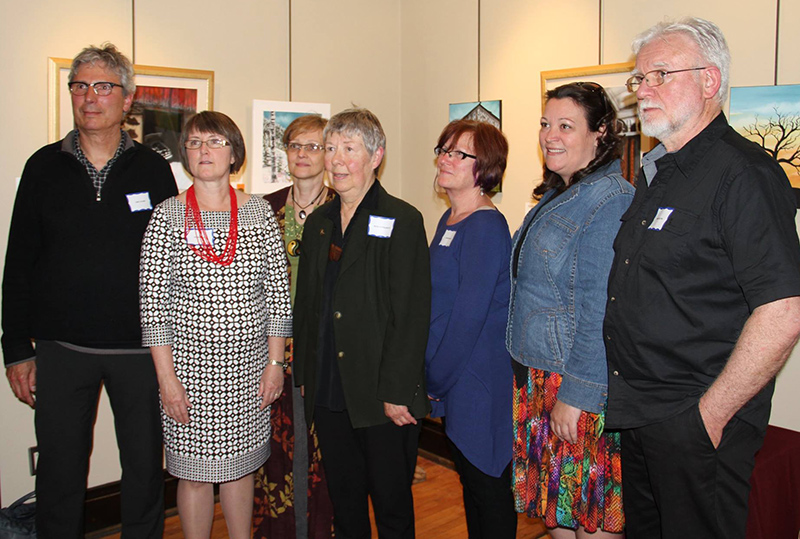 Above, the winners of the Minto Arts Council's 2015 juried art show, from left: Tony Lucciani (juror), Debbie Near of Guelph (third place), Claudia Strelocke of Priceville (second place), Ruth Mittelholtz (juror), Susan Nichol of Kincardine (first place), Cheryl Gimblet of Mount Forest (People's Choice), and Brian Dalton (juror).
The Juried Art Show is open to all artists living in Ontario, and all works submitted must have been completed within the last five years. A non-refundable $25 fee for artwork entered (maximum of three works) is required.
Download the entry form for all conditions of entry. Be sure to submit it by 5:00 p.m. on April 1!
About the Jurors
We're grateful for the support of local working artists Andrea Bird, Dot (Currie) Cork and Brian Dalton who will select the participants of this year's show.
Andrea Bird (AOCA/OSA) is a passionate mixed-media encaustic artists and has exhibited work locally and internationally over the past few decades. Living rurally inspires her, as does her exploration of the human condition. She co-runs an encaustic art school and gallery – 'the hive' – at the Alton Mill Art Centre with her husband, artist Daniel Beirne. Together they teach this ancient and beautiful method of painting with beeswax.
Dot (Currie) Cork graduated from the New School of Art in Toronto in 1969, where she studied Fine Arts. She moved to Mount Forest in 1976 and founded her own art school where she has taught both children and adults for the past 37 years. Most of her exhibitions are in Cape Breton Island, Nova Scotia, where she spends four months each year painting her colourful and whimsical East coast-inspired works of art.
Brian Dalton is a well-known Canadian artists and former head of the Norwell District Secondary School art department. Since his retirement, painting has become a full-time occupation. Currently, he is working on illustrating a World War II war diary. Dalton is a fine artist in every sense of the word, with his works widely sold and coveted.