Get Involved with the Minto Arts Council
Like many community-focused organizations, the Minto Arts Council relies on the dedication of volunteers, members, sponsors and supporters to make our initiatives a success.
Here's how you can help!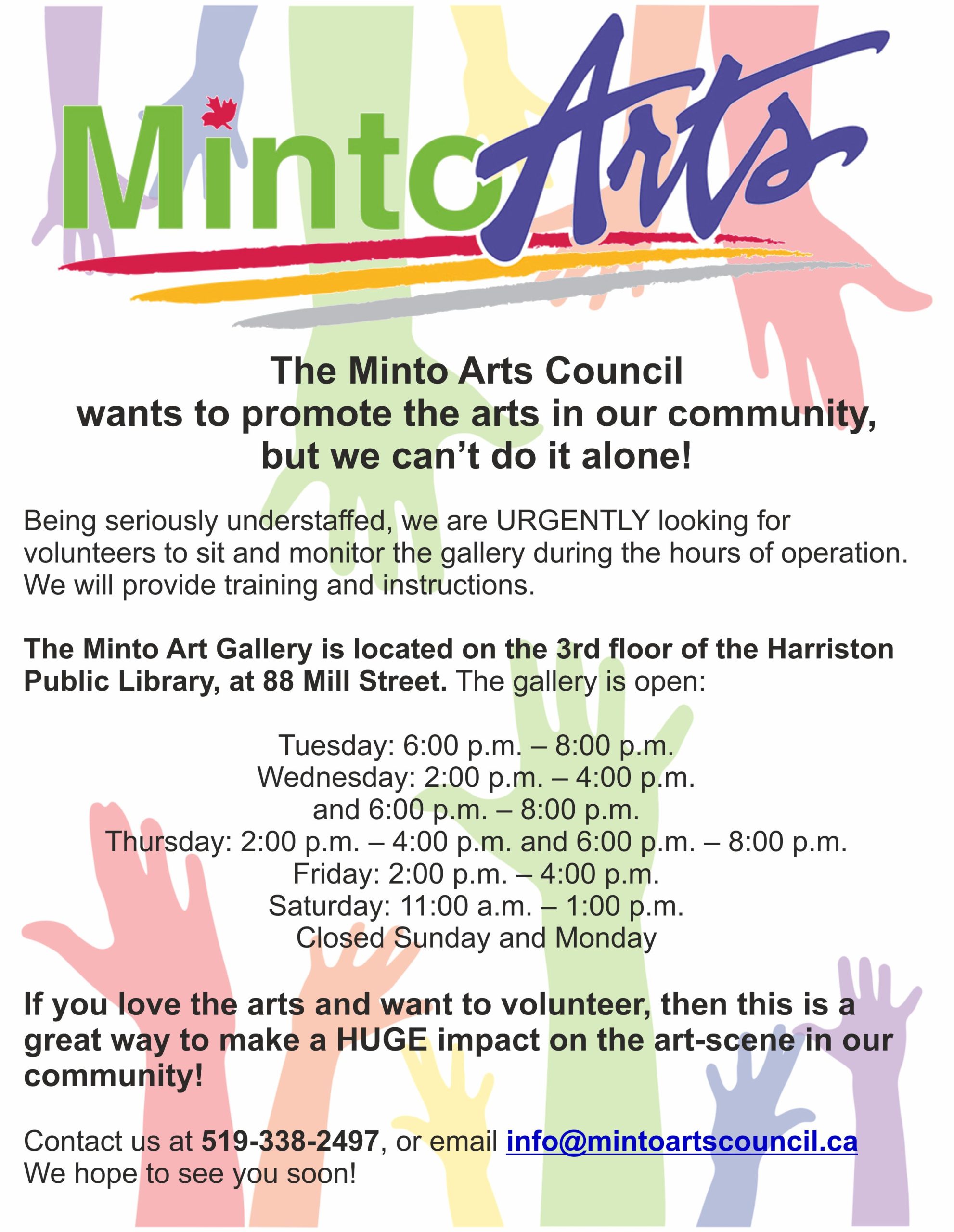 Become A Member
Minto Arts Council members receive the Minto Arts Council e-newsletter, have access to special opportunities and studio tours, and are entered to win a Basement Café Concert Series ticket when they visit the gallery for six different shows.
Memberships are just $15/person, or $25/family for the 2020 season.
Pick up your membership card by visiting the Minto Arts Gallery during regular operating hours.
Volunteer
The Minto Arts Council is a volunteer-directed organization and welcomes new members to our various committees.
Volunteers are always needed to support our Exhibition committee, staff the Gallery, help coordinate our annual Christmas Show & Silent Auction, and host our Basement Café Concert Series.
Send us a note if you're interested in joining our volunteer team.
Sponsor Us
As with memberships and donations, the Minto Arts Council is grateful for sponsorships that assist in the operation of our gallery and arts initiatives.
Interested in sponsoring an exhibit or event? Want to contribute your services or skills? We welcome corporate, in-kind or individual sponsorships, and are open to creating a customized partnership.
Please get in touch to discuss your ideas!
Make A Donation
A non-profit charitable organization, the Minto Arts Council is financed through generous donations of its supports, as well as, sponsorships, self-generated revenue and membership fees.
Your support assists in the continued operation of the Minto Arts Gallery, as well as local arts programming and awards for local students now and in the future.
Donations are eligible for a charitable tax receipt and are tax deductible. Please make cheques payable to Minto Arts Council.
Charitable Registration No: 865932172  RR00001
Online
Donate to the Minto Arts Council through the canadahelps.org website.
By Mail
Mail cheques to:
Minto Arts Council
P.O. Box 760
Harriston, ON
N0G 1Z0