Three Views of Ontario Show by Ian, Colin and Anne Williamson is on display from April 4th – April 28th, 2023. At the Minto Arts Gallery in Harriston, Ontario. Located on the Top floor of the Harriston Public Library – 88 Mill Street.
Join us for the artists reception on April 6th, starting at 6:30 pm till 8:00 pm. Have the pleasure of meeting the artists, whilst enjoying some refreshments.
"Three Views of Ontario Show" is a exhibition that combines photography and painting from three artists in one family. Colin and Ian Williamson are brothers, who are photographers. Their passion with art began in their high school years. Their subject matter focuses on the rural natural landscapes in Killarney, Algonquin Park and Southwestern Ontario. These photographs are paired with Anne Williamson's watercolour/ acrylic paintings. That are inspired by these sceneries and provide three different perspectives of our wonderful rural areas of the province.
Three Views of Ontario: Ian Williamson
Photography has always been a passion for Ian Williamson. His first major exposure was taking photos for his high school yearbook, which was such a success he burned that issue. Getting his first camera, a Pentax SLR, was definitely the impetus for learning how to make and create better photographs- a lifelong process.
There have been many changes and improvements in photography techniques and equipment. Throughout the years, but the advent of the digital age has been profound. No more carrying around multiple rolls of film, rationing your shots, or working in a darkroom with trays of chemicals. Personally, the biggest change is the ability to sit at the computer, edit his raw files, and print his own photographs – a complete process from start to finish. He truly feels that holding that finished print in his hands is almost as good as capturing that visual moment in time.
Colin Williamson
The gift of a twin lens reflex camera in his early teens started his interest in photography. He was a casual photographer for many years, but became more serious as he approached retirement and the free time it would bring.
The development of digital photography and computerized post processing tools allowed him to control all aspects of his photography for the first time. This and the retirement gift of a serious photo printer opened his eyes to the potential of creating art through photography. Colin is primarily a landscape and nature photographer, but he also enjoys capturing cityscapes when travelling. Recently, he has begun to photograph the rural environment of southwestern Ontario. Photography has changed how he views the world. He is constantly "cropping" what he sees – looking to find the essential part of a scene that makes it beautiful.
Anne Williamson
Anne is a painter and printmaker. She derives most of her inspiration from nature and her paintings tend to be representational with the emphasis on colour harmony and composition. Her monoprints are semi-abstract and involve the use of botanicals. Being an artist means you see things differently – colours, shapes, shadows, and movement.
Her interest in drawing and painting with watercolours began at an early age. Although art took a back seat to raising her family and careers, she could generally find time to sketch. As she approached retirement, she began taking classes and workshops at the Dundas Valley School of Art with the view of improving her skill and recently completed their Art Fundamentals Certificate Program.
The exhibition Three Views of Ontario Show includes paintings of locations she has visited in Killarney and Algonquin Park. As well as places closer to home, in southwestern Ontario.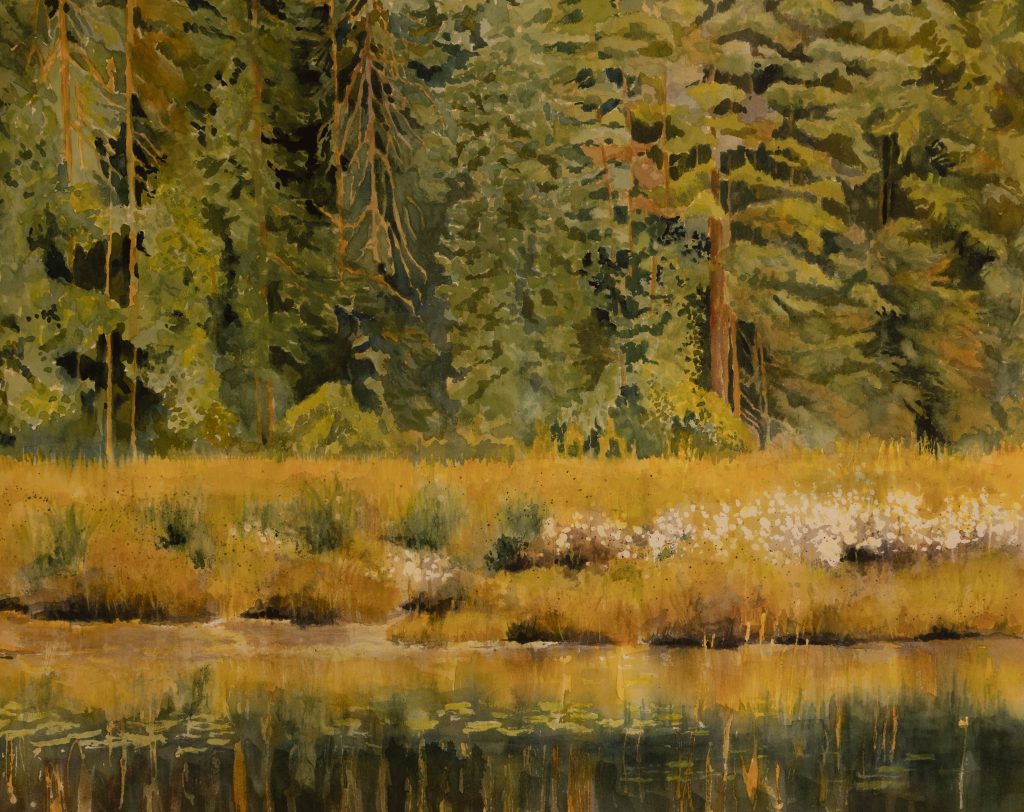 Hours of operation of the gallery are:
Tuesdays 6 – 8 p.m.
Wednesdays 2 – 4 p.m.
Thursdays 2 – 4 p.m. and 6 – 8 p.m.
Fridays 2 – 4 p.m.
Saturdays 11 – 1 p.m.
Volunteers are always welcome!