In our September exhibition Explore and Create we present Prints and Mixed Media by Paula Sears Rostrup, and Drawings, Oils and Watercolours by Paul Sears. Exploring the natural and built environment provides inspiration for expression and creation.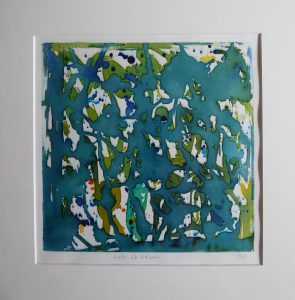 The work in this exhibit by a father and daughter shows the creative possibilities and impact of exploring beyond our day to day surroundings.
Paula Sears Rostrup
Paula Rostrup grew up in an artistic and musical family in Toronto. Her use of art as a means of personal expression developed out of early exposure to art and creativity.
Paula began her artistic journey working in pastel and watercolour. A summer class in mono-prints sparked her interest in printmaking which led to studies in other print techniques such as collagraphy, dry point, etching and lithography.
Currently, Paula is exploring clay sculpture and the addition of collage elements to print. The unexpectedness and multiplicity of print is what continues to provide stimulation and inspiration.
Paula has taken courses at Dundas Valley School for the Arts, Wellington County Summer School, Centre3 Hamilton, Button Factory Arts Waterloo and Riverside Print Studio Cambridge and has a certificate in Fine Art Fundamentals from Sheridan College, Oakville.
Paula would like to thank her family and the many friends and instructors who have encouraged her to be her creative best.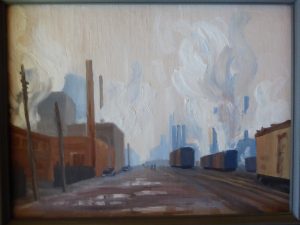 Paul Sears
Paul Sears was born in Weston, Ontario in 1923. He grew up in a creative and musical family. From an early age, he loved to recreate images of heroic characters and trains in pencil.
Paul attended the University of Toronto focused on a degree in architecture which he completed in 1948. He enjoyed outings to Dorset where the University had a sketch camp. Most of his work in this exhibit is from those years, 1944 to 1946.
After graduation, Paul went to work for his father at Sears Builders, providing the architectural design side of the business.
The needs of earning a living and bringing up children meant that painting was put on hold. In the meantime, Paul continued his tradition of the annual Christmas card.
In 1963, Paul was offered the opportunity of joining the faculty of the newly created Department of Architectural Science at Ryerson Polytechnical Institute in Toronto. This was a dream position for him as it combined his love of building and history with his love of imparting this knowledge to others. He accepted the position and taught History of Architecture and Building Science until he retired, a Professor Emeritus, in 1988.
Paul died on February 11, 2007, but his spirit lives on in his art.