Enjoy a laid back, intimate performance by folk singer/songwriter Katherine Wheatley on May 14 at 8 p.m. Local duo The MacQueens will kick off our night of folk music.
Advance tickets are just $20 (including unlimited tea or coffee). Bring your sweet tooth – we'll also be selling our fabulous desserts at the show!
Past Basement Cafe Concerts have sold out – so be sure to buy your tickets in advance at Harriston Home Hardware or by calling 519-338-2497.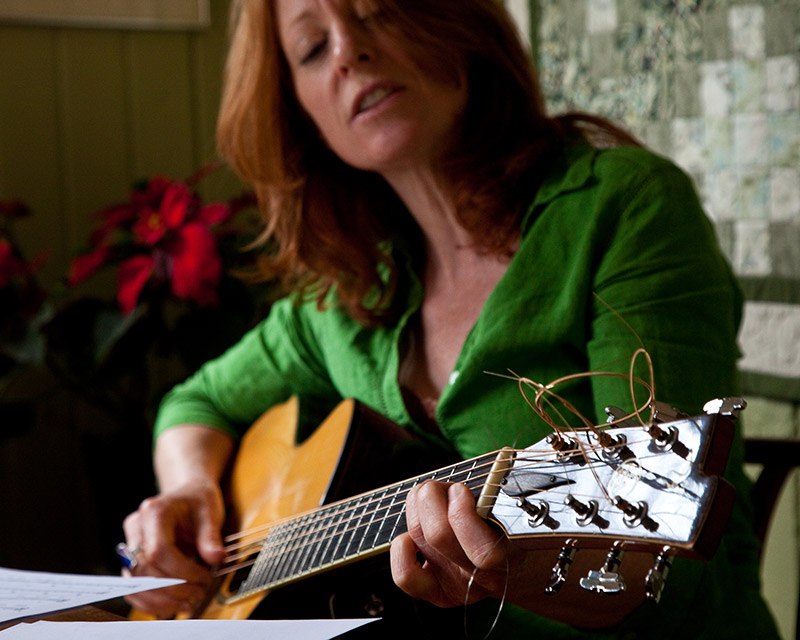 Bio
Acoustic roots with catchy melodies, arresting vocals, great guitar playing, lyrics that get you and that you get – these are all things that have been written over and over again about Katherine Wheatley's music. She sings truth, bravely, and in detail. Like Shawn Colvin, Edie Brickell and Joni Mitchell, Wheatley mines heartache and produces lyrical and melodic gold. And like one of her earliest influences, Gordon Lightfoot, she invokes nature to reflect the emotional intent of her songs.
Katherine's passion for music began with a 13 dollar guitar ordered from the Sears Catalogue. Her debut performance was with the Parry Sound High School Stage Band at the Bobby Orr Community Centre singing "Rhinestone Cowboy". She worked for the Canadian Geological Survey out of Flin Flon, MB before putting down the hammer and digging out her guitar. A humble and hardworking musician, she's come a long way since Ian Tyson told her to "LEARN YOUR ROOTS!" after opening for him in 1994.
Katherine won the Duke Ellington Award for arranging, the Gordon Delamont Award for Composition and the CMPA award for songwriting at Humber College. Her song "Hallelujah" won a Golden Quill award and was selected, along with "Some Sweet Country" for the new Rise Again songbook (30th anniversary publication of Rise Up). Her solo show in Charlottetown was awarded "Performance of the Year" 2010 by the Guardian. She's been on Stuart McLean's Vinyl Cafe, TVO's Studio Two, CBC's Vicki Gabareau Show and CTV's Canada AM and has written music for film and television documentaries.
In addition to touring across Canada, the U.S. and Europe as a solo singer/songwriter, Katherine is a member of the Toronto super group "Betty and The Bobs", plays regularly in the hilarious and moving duo "Wendell and Wheat" (where "she doesn't leave a dry eye and he doesn't leave a dry seat") and tours every winter with Jude Vadala and Tannis Slimmon in the trio "Boreal". Katherine is in high demand for her innovative songwriting and music workshops. She's written and recorded over 200 songs with kids through her Youthsongs program and has produced over 30 CDs with schools across North America. She works as a singer and zodiac driver on board the ship The MS Expedition as it plies the seas of Antarctica and the Norwegian Arctic