Minto Arts Gallery
The Minto Arts Gallery, located on the third floor of the Harriston Public Library, was opened in May 1997. Always looking to creative and upcoming talent, it has become the home of many local and national artists.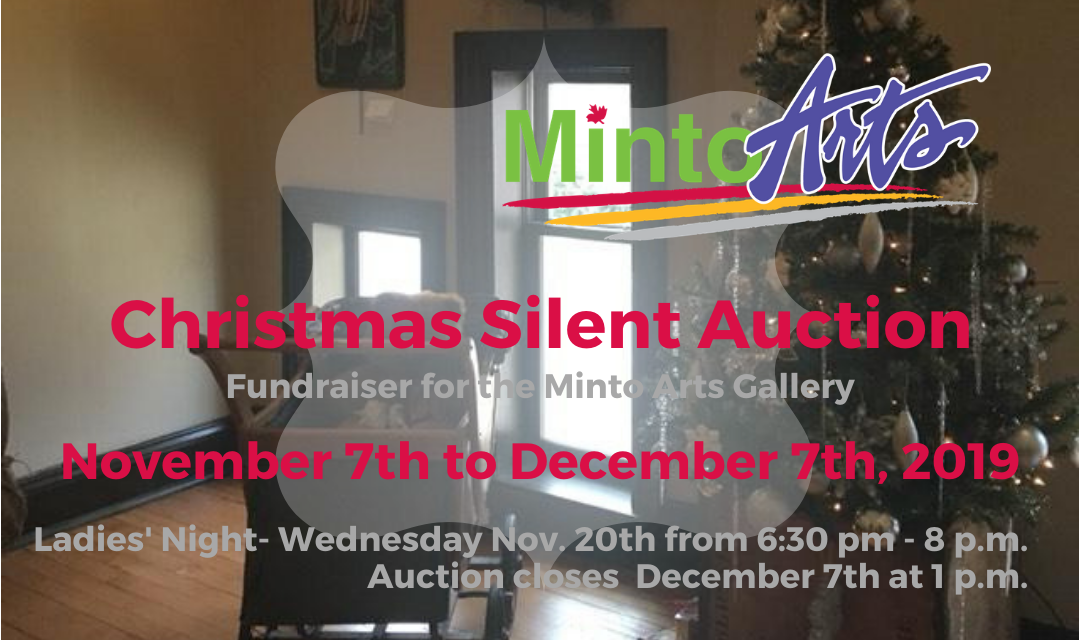 Christmas Silent Auction 2019, rings the spirit of art and unity in the happiest time of the year. With a new name.but the same annual fundraiser, we want to invite you. Visit and celebrate with us the most fun and inspiring event of the season. At the Minto Arts...
read more
Minto Art Gallery Hours
Tuesday: 6:00 p.m. – 8:00 p.m.

Wednesday: 1:30 p.m. – 3:30 p.m.
and 6:00 p.m. – 8:00 p.m.

Thursday: 6:00 p.m. – 8:00 p.m.

Friday: 1:30 p.m. – 5:30 p.m.

Saturday: 11:00 a.m. – 1:00 p.m.

Closed Sunday and Monday
Location & Parking
The gallery is located on the top floor of the Harriston Public Library, 88 Mill Street, Harriston, Ontario.
The gallery is wheelchair accessible by elevator.
Parking is available in the Library's parking lots. Admission is by donation.
2019 Exhibition Calendar
January 3 – February 16: "World Through a Brush" by Stephen Cole
February: Harriston Historical Society Exhibit
March 7 – 31: "Abstraction" by Monte Wright
April 4 – 27: Saugeen Artist Group Show
May 7 – June 1: Juried Art Show
June 4 – 22: Student Art Show
July & August: Harriston Historical Society Exhibit
September 5 – 28: "Explore and Create" by Paula Rostrup
October 3 – 26: "Falling Leaves – Clayworks and Drawings" by Carol Bradley
November 7 – December 7: Christmas Auction Show
2020 Exhibition Calendar
January 9 – 31: Norwell District High School Student show
February 6 – 29: Dixi Leroux
March 5 – 28: Dana Savard
April 2 – 25: "Changing Face of Photography"-Mark Robinson, Pete Daize, Gary Moon
May 7 – 30: Juried Art Show
June 4 – 27: Student Art Show
July & August: Harriston Historical Society Exhibit
September 3 – 26: "Left, Right and Centre" Ken Thornburn and Friends
October 8 – 31: "Square Foot Show 2" Kitchener Artists
November 5 – December 3: Christmas Silent Auction
Call for Artists
If you're interested in scheduling an exhibit at the Minto Arts Gallery, we'd love to hear from you!
The Gallery provides:
an opportunity for local artists to display their work in their community;

a place to display objects of historical interest to the community;

a facility to house community interest in the past, present and future.
For more information on the gallery and our upcoming exhibitions, download our brochure.
Please complete our exhibition application form and contract, and submit them by mail or email. Note that Minto Arts Gallery Ceilings are 9'6″ high, except 2 walls in the side rooms, where they slope to 7′.
Love the Arts?
You don't have to be an Artist to enjoy the Arts! Whether it's mending the gallery, spreading publicity, the for and after math of shows and events, we couldn't do it all without volunteers. We always welcome new volunteers to our exhibition committee, gallery staff, and Christmas silent auction crew! Contact us now and see what you can do for your community.