Minto Arts Gallery
Located on the third floor of the Harriston Public Library, the Minto Arts Gallery was opened in May 1997.
The Gallery provides:
an opportunity for local artists to display their work in their community;
a place to display objects of historical interest to the community;
a facility to house community interest in the past, present and future.
The Gallery occasionally features the work of local artists and craftspeople in its shop.
Minto Art Gallery Hours
Tuesday: 6:00 p.m. – 8:00 p.m.

Wednesday: 1:30 p.m. – 3:30 p.m. & 6:00 p.m. – 8:00 p.m.

Thursday: 6:00 p.m. – 8:00 p.m.

Friday: 1:30 p.m. – 5:30 p.m.

Saturday: 11:00 a.m. – 1:00 p.m.

Closed Sunday and Monday
Location & Parking
The gallery is located on the top floor of the Harriston Public Library, 88 Mill Street, Harriston, Ontario.
The gallery is wheelchair accessible by elevator.
Parking is available in the Library's parking lots. Admission is by donation.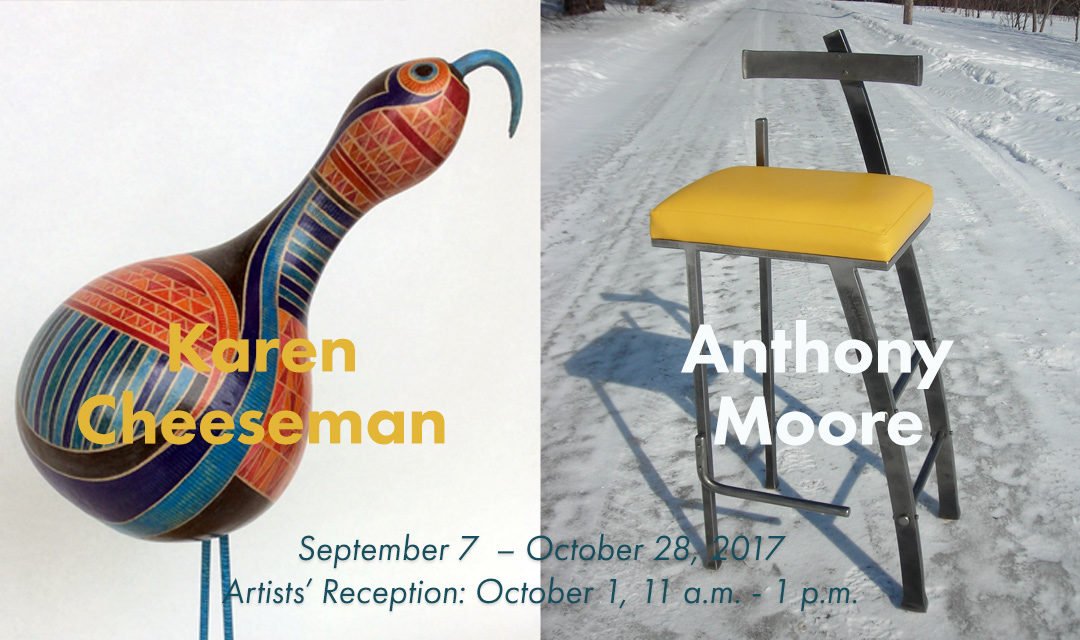 Sept. 7 – Oct. 28, 2017
Artists Reception: Oct. 1, 2017
read more
2017 Exhibition Calendar
January 5 – 28: "Comfort/Discomfort" by Jenny Iseman
February: Harriston Historical Society Exhibit
March 2 – April 29: "The Art of Glass" by Kathryn Thomson
May 4 – June 3: Juried Art Show
June 8 – 22: "Mediums of A Teenage Mind" – Norwell District Secondary School Student Art
August: Harriston Historical Society Exhibit
September 7 – October 28: Karen Cheeseman & Anthony Moore
November 9 – December 2: Christmas Show & Silent Auction
Call for Artists
If you're interested in scheduling an exhibit at the Minto Arts Gallery, we'd love to hear from you!
Please complete our exhibition application form and contract, and submit them by mail or email. Note that Minto Arts Gallery Ceilings are 9'6″ high, except 2 walls in the side rooms, where they slope to 7′.
Love the arts?
We welcome new volunteers to our exhibition committee, gallery staff, and Christmas silent auction crew!